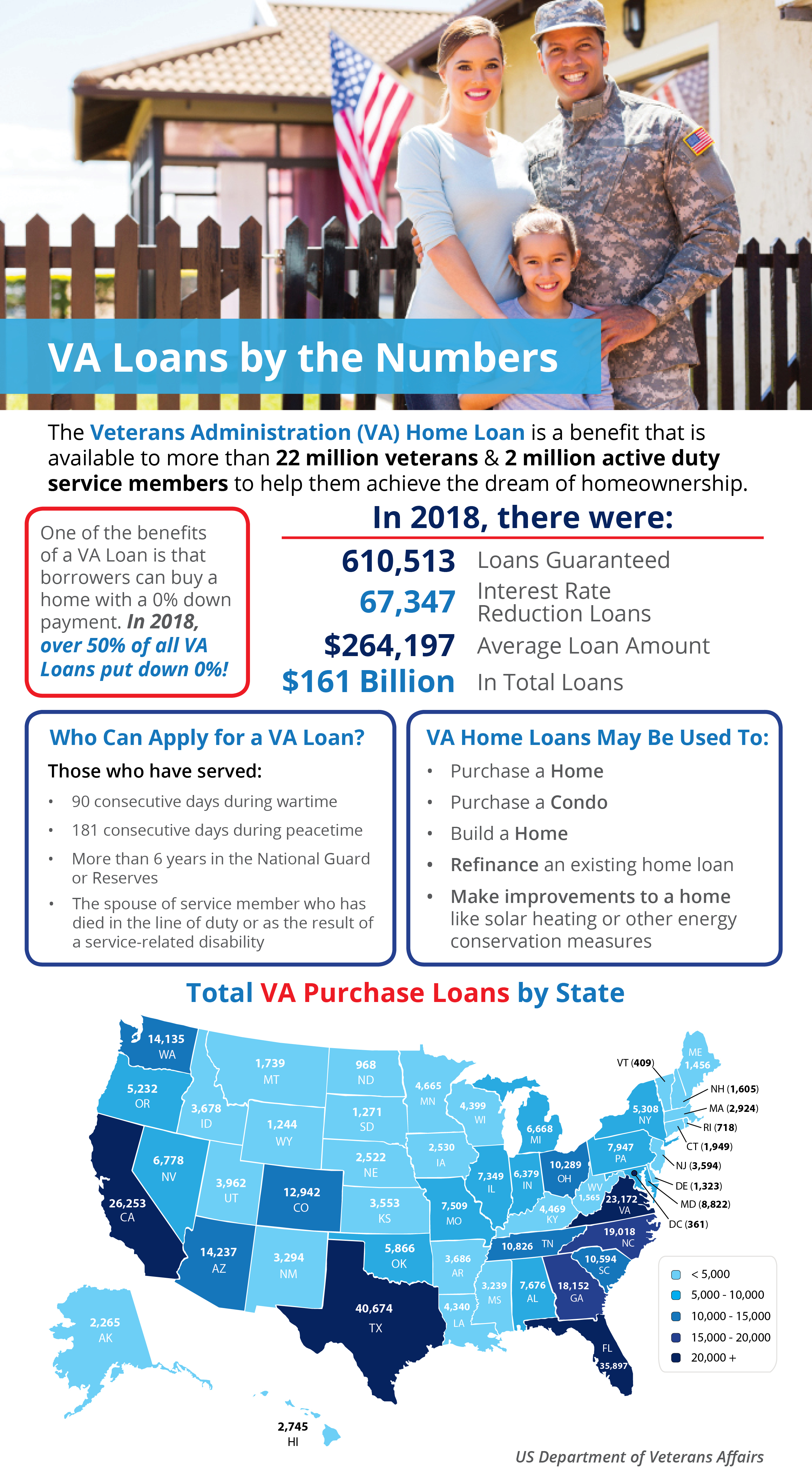 Today, on Veterans Day, we salute those who have served our country in war or peace, and we thank them for their sacrifice.  The VA Home Loan Benefit offerings through the Servicemen's Readjustment Act, also known as the GI Bill has created opportunities for those who have served our country, ranging from vocational training to home loans.
Facts About VA Home Loans:
Nearly 24 million home loans have been guaranteed by the Veterans Administration.
Nearly 82% of VA home loans are made with no down payment.
The VA also provides grants to help seriously disabled Veterans purchase, modify, or construct a home to meet their needs. Last year the VA provided 2,000 grants totaling $104 million.
Benefits of a VA Home Loan:
No down payment
No Private Mortgage Insurance*
Lower credit score requirements
Limitation on closing costs
Lower average interest rates
The Veterans Administration (VA) Home Loan is a benefit that is available to more than 22 million veterans and 2 million active-duty service members to help them achieve the dream of homeownership. In 2018, $161 billion was loaned to veterans and their families through the program. In the same year, the average loan amount was $264,197 and 610,513 loans were guaranteed.
Virginia is one of the leading states where homeowners are using VA loans to purchase a home.  That is not surprising giving the number of military bases in Virginia.  VA loans are just as popular in the Greater Fredericksburg Area due to its proximity to Quantico, AB Hill, Dahlgren, Belvior, and the District of Columbia.
The best thing you can do today to celebrate Veterans Day is to share this information with those who can benefit from these opportunities. For more information, or to find out how to qualify to use a VA Home Loan Benefit, let's get together to navigate through the process.
Veterans and current military families, if you would like to discuss your eligibility for special incentives when buying and/or selling a home, I am a Military Rewards agent and would be happy to talk more with you. In the meantime, if you need additional buyer resources feel free to visit my Buyer Resource Page.   Thank you for your service!
—
Get started searching the Greater Fredericksburg Area for your next home by filling in your search criteria on my search page.
If you have a home you need to sell, get a free value estimate.